The teaching was great, the worship was wonderful, the activities were engaging and absorbing, but what really characterised our five day stay in Sidholme hotel was the sense of safety and openness, with new friendships made quickly. Many were prayed for, many prayed for others and there were many breakthroughs, some quite remarkable! For a third-party evaluation, here is what one lady wrote: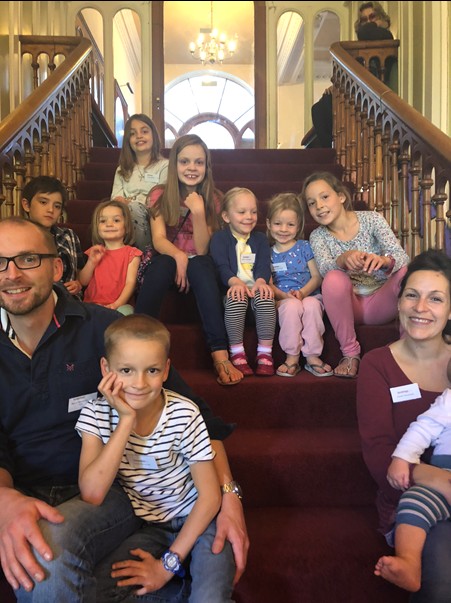 This was my first Foundations gathering. I found there the kind of Christian fellowship I have waited my whole life for! There was so much love and encouragement which helped me to be set free to really be my redeemed self and express myself in worship with total abandon. I found a true Christian family. Everyone I spoke to was happy to share their life with me and talk about the Lord. The worship was Holy Spirit led and anointed and truly from the heart. The teaching was anointed, prophetic and brought the Bible alive to me in a new way. What a blessing to learn more about our Hebraic roots. The well-stocked book tables provided a wealth of resources to guide us in our Christian life. Lovely to see families with beautiful very well behaved children and a real highlight was when the family of 6 children sang their song Children are a Blessing from the Lord, and then exited the hall upstairs like The Sound of Music ! Loved the early prayer meetings and other times when I was able to take part as the Holy Spirit prompted me. The days flew by much too quickly and I really pray I may be able to go to Foundations again next year. I hope to become part of the Saltshakers Community and look forward to Sword magazine from time to time."
This was one of many positive observations. Click here to see the full story.
If you want to see a very detailed and revealing report on the conference, I suggest you download Harriet's Journal - very eye-opening.
CLICK here for a poem about Foundations 10
One of the most poignant moments was Colin Nevin's testimony. There are even testimonies that have emerged as a result of people viewing the video below of Colin's testimony! If you have a testimony, do tell us!
CLICK HERE FOR THE AUDIO RECORDINGS FOR FOUNDATIONS 10
Here is an early music worship section, of 'How Great is our God', led by David & Keila and Jeremy and featuring Ginnie and the dancers ...
Here are two Show & Tell sessions (the middle one has been lost through poor audio quality)
And here is the TIMELINE, showing the story of Foundations 10 ...
And finally, the music and dance sequences include the 'world premiere' performance of INTO THE LION'S DEN!
WERE YOU THERE? DO YOU HAVE ANY VIDEOS OR PHOTOS? DO SEND THEM IN AND WE WILL ADD THEM TO THIS PAGE. WHAT ABOUT COMMENTS OR TESTIMONIES? EITHER ADD THEM BELOW OR EMAIL THEM TO US.