A half price package of 11 of his books and booklets. CLICK HERE to find out more.
---
FOUNDATIONS LIVE WEB BIBLE SCHOOL
(THIS HAS NOW FINISHED UNTIL EARLY APRIL - WATCH THIS SPACE) This will be EVERY THURSDAY - 7pm - 8:30pm (GMT). Teaching by PAUL LUCKRAFT. Here is how he introduces it: "Join us on Thursday evenings for 'Opening the Ancient Wells', a series of studies that aims to uncover the treasure of God's Word which is often hidden beneath several layers of human additions and traditions. Translations can be misleading; theology can be unhelpful. We will try to dig beyond all these to recover what God intended us to read, understand and believe. Each evening is self-contained but will also contribute towards the overall theme. There will be a chance to ask questions, and time to reflect and discuss what is taught.". Recording will be made available to subscribers ASAP. (Audios of past sessions available)
If this interests you, click here
---
THE AUDIO/VISUAL BIBLE: Book of Romans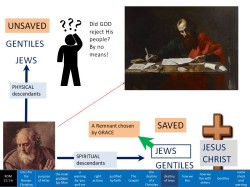 Do we have something for you - a new way of reading the Bible, starting with the Book of Romans - and it's free! CLICK HERE to find out more.
---
FOUNDATIONS FELLOWSHIP GROUP
This is a FREE web event every TUESDAY at 7pm - 8:30pm (GMT) - NEXT SESSION IS March 19th - . Open to all subscribers to share, encourage and learn together informally. If this interests you, click here.
---
MONTHLY MOEDIM MEETINGS
This meeting is at the beginning of every Hebrew month - the next is at Friday March 8th.We meet at Cleveland Street.(Near Great Portland st) Find out more HERE. Click here for a review at Prophecy Today
---
ASK THE TEACHER
*** NEW FEATURE ***
Current questions answered: How does the pre-millenial position score over the a-millenial one? Please explain Leviticus 22:10 ? When will the rapture be? Pre, Mid or Post-trib? What did the Jews do in the 1800s to warrant God returning them to the land? Should gentiles celebrate the feasts of Israel? Why? Can the lost tribes of Israel still be identified? Israel was initially deemed a 'socialist dream' with its kibbutz system etc. Now it is deemed a 'Nazi state' by the same people. Why?