"Saved to be spent" by David Andrew. READ IT HERE
---
FOUNDATIONS LIVE BIBLE SCHOOL
NEXT ONE on DECEMBER 12TH
Foundations Bible School, next Thursday, December 12th: "Christmas Special! Does Christmas get your vote? Or would you rather 'exit' Xmas? Whether your response to Christmas is Hallelujah or Humbug, let's take some time out to try to separate fact from fiction, truth from tinsel."
If this interests you, click here
---
THE AUDIO/VISUAL BIBLE: Book of Romans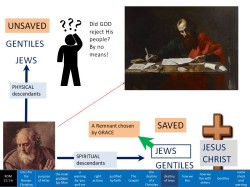 Do we have something for you - a new way of reading the Bible, starting with the Book of Romans - and it's free! CLICK HERE to find out more.
---
FOUNDATIONS FELLOWSHIP GROUP
This is a FREE web event every TUESDAY at 7pm - 8:30pm (GMT) - Open to all subscribers to share, encourage and learn together informally. NEXT SESSION ON DECEMBER 10TH. If this interests you, click here.
---
MONTHLY MOEDIM MEETINGS
This meeting is at the beginning of every Hebrew month - POSTPONED UNTIL NEW YEAR -.We meet at Cleveland Street.(Near Great Portland st) Find out more HERE. Click here for a review at Prophecy Today
---